Classical guitar / Caravan DVD
OCTOBER 2011



CLASSICAL GUITAR
This past summer Ed started studying classical guitar--specifically the music of Spanish composers/guitarists Fernando Sor, Francisco Tarrega, and Miguel Llobet.

• Lagrima (Francisco Tarrega)
• Ejercicio No. 10/9 (Jose Ferrer)






OLBRICH GARDENS (SEPT. 2011) / PHOTOS BY ANDY STENZ

• VISIT ANDYSTENZ.COM

NEW CARAVAN DVD UPDATE!


On July 10, 2010, Caravan performed on an amazing band shell at Sinnissippi Park in Rockford, Illinois. They were joined by Randal Harrison (violin) and Jim Huwe (drums and percussion) for the show. It was a beautiful night, and it led to an inspired concert.
Working with Snapshot Music and Charlotte's Web for the Performing Arts they were able to successfully make a high-quality, multi-camera video recording of the show.
Caravan is in the final stages of producing this first DVD release, Caravan: Live at Sinnissippi Park. This video should be officially available fall/winter 2011.

CARAVAN LIVE CD

Caravan's newest CD, An Evening at the Brink Lounge, has been a great success and is selling well. This energetic live performance, recorded in front of an enthusiastic crowd at Madison, Wisconsin's Brink Lounge in September 2009, features Caravan in their natural element--on stage. Coming off a busy summer of playing concerts and festivals the band was in prime form to record and wanted to capture the spirit of their live sound.

• PURCHASE AN EVENING AT THE BRINK LOUNGE HERE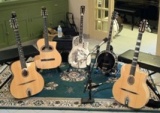 UPCOMING GIGS
In November the Caravan "duo" (Ed and Chris) will be performing again at the Monona Terrace Winter Art Fair (Madison, Wisc.). This will be their fifth or so year doing this gig and it's always a fun time. This year they will be bringing the full Caravan arsenal of acoustic jazz guitars... including a "banjo guitar"... but don't let that stop you from coming! And Caravan (full band) will be returning to the Brink Lounge in January 2012. Those are just a few highlights; please check the GIGS page for a complete listing of upcoming performances.






FULL COMPASS SOUND (APRIL 2011) / PHOTOS BY WILLIAM STEVEN






SHITTY BARN CONCERTS (JULY 2011) / PHOTOS BY CONNIE WARD/BRIAN FULLER




THE YARDARM w/BIANCA DE LEON (JULY 2011) / PHOTO BY CHRISTINA UMBREIT